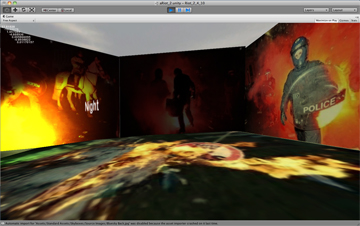 For my first Unity build, I made a digital environment using found photos that were captured at the event.
Starting from the center of my spatial re-construction plan, and keeping in mind the following design question; "What would it be like to be there?" – I decided to focus on the center point of my psychogeography.
At the center of my psychogeographic space was fire, so I re-created my perceived sense of time at that place, through a kind of kettled presence where the player would be immersed in the space.
The result was a digital diarama.
Download this Diarama here: